TTAB Sustains 2(d) Opposition, Finding Wine and Soft Drinks Related
A thorough
du Pont
analysis led the Board to sustain a Section 2(d) opposition to the application of Floridian Stephen M. Schwartz to register the mark shown below for "sparkling wine." Opposer South Beach Beverage Co. relied on its registration and use of the mark SOBE for soft drinks, iced teas, fruit drinks, and other nonalcoholic beverages.
South Beach Beverage Co. v. Schwartz
, Opposition No. 91121457 (May 9, 2005) [not citable].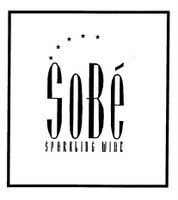 As to the marks, the Board not surprisingly found "SoBé" to be the dominant portion of Schwartz's mark. Moreover, because "there is no correct pronunciation of a trademark, someone who has heard applicant's mark and seen opposer's SOBE mark may well pronounce the words the same." With regard to connotation, people will either understand the marks to refer to the South Beach area of Miami, Florida, or if not aware of that meaning, will see both as the same arbitrary term.
Opposer
South Beach Beverage
's sales of $247.5 million in 2001 and $225 million in 2003, its advertising expenditures of $17 million and $19 million in those two years, extensive media coverage, a website with more than 10 million hits per month (exceeding even the
TTABlog
!), and the receipt of several packaging awards for its goods, convinced the Board that SOBE is a "well known and strong mark entitled to a broad scope of protection." It is not a "famous" mark, however. As the Board observed,"[f]ame is relative … opposer has not demonstrated that its SOBE mark has attained the level of 'fame' within the meaning of the
du Pont
factors, as such marks as COCA-COLA or FRITO-LAY."
Turning to the goods, Opposer submitted evidence showing that "several companies [e.g., Anheuser-Busch, Seagram's, and Hansen's] manufacture and sell both alcoholic and non-alcoholic beverages, sometimes under the same or similar marks." Also, both alcoholic and non-alcoholic beverages are advertised in the same magazines (e.g., "Rolling Stone" and "Beverage Aisle"). Prior Board decisions have also found these good to be related (in the particular factual contexts there involved). Therefore, the Board found the beverages of the parties here to be related for Section 2(d) purposes.
The Board refused to buy Schwartz's argument that the purchasers of his wine will exercise particular care, and would be "more likely to ask for recommendations" before purchasing wine.
"These are inexpensive goods that may be purchased on impulse without the purchaser exercising any particular care in making the purchasing decision."
Finally, the Board noted that Opposer has registered its mark for a number of goods, and distributes a number of promotional items, including hats, golf balls, mouse pads, and guitars. It also licenses the SOBE mark for use on gum and chocolate bars.
"Purchasers aware of the variety of Opposer's goods sold under the mark SOBE may well assume that opposer is now offering sparkling wine under the mark SOBE."
TTABlog comment:
SOBE it.
Text ©John L. Welch 2005. All Rights Reserved.