"BOSTON" Fans Block "BOSTON HARBOR," Says TTAB
The Board threw a Boston Tea-TAB Party for Seattle-based Sound International, Inc. It deep-sixed Sound's application to register the mark BOSTON HARBOR for oscillating, stand, table, wall, ceiling, electrical household, and portable fans (BOSTON disclaimed), finding the mark likely to cause confusion with the registered mark BOSTON for "fans."
In re Sound Int'l, Inc.
Serial No. 76337681 (January 28, 2005) [not citable].
Boston Harbor
The Board agreed with the Examining Attorney that the goods at issue are legally identical, since registrant's "fans" encompass Sound's more specifically-identified products. Sound feebly argued that it currently sells "ceiling mounted fans," while registrant's goods are "fans that rest on surfaces," and also that its goods are sold exclusively to independent hardware and home improvement stores, while registrant's are sold to office supply stores. But the Board (not surprisingly) quickly jettisoned those arguments, observing once again that:
"the question of likelihood of confusion must be determined based on an analysis of the goods identified in applicant's application vis-a-vis the goods identified in the cited registration, rather than what the evidence shows the goods actually are." Canadian Imperial Bank v. Wells Fargo Bank, 1 USPQ2d 1813, 1815 (Fed. Cir. 1992)
Moreover, the Board pointed out that, absent limitations in the identifications of goods, it must be assumed that the goods travel in all normal channels of trade; thus the trade channels here must be considered to be identical.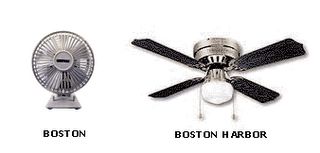 As to the marks, the Board noted that when marks appear on virtually identical goods, a lesser degree of similarity is needed to support a Section 2(d) refusal. The term BOSTON has the same geographic significance in each mark, and the addition of the word HARBOR does not change that significance. In the marketplace, purchasers do not have an opportunity for side-by-side comparison of the marks, and so the proper test looks to the similarity of the overall commercial impressions created by the marks. Here, the Board concluded, addition of the word HARBOR does not distinguish the marks, since purchasers are likely to retain only a general impression of the marks, and not a recollection of specific differences.
The TTAB also tossed overboard as irrelevant Applicant's list of fifty third-party registrations for marks that include the word BOSTON, and its hopeless argument that its product packaging differs from registrant's.
One might sum up by saying that, at this point in time, and in more ways than one, BOSTON fans are riding high.
Text and Boston Harbor photograph ©John L. Welch 2005. All Rights Reserved.