TTAB Dismisses "RIVER CATS" 2(d) Opposition, Finding Clothing And Seafood Unrelated
The Board made several questionable calls as Opposer
Rivercat Foods, Inc.
of Folsom, California, struck out in its attempt to prevent the
Sacramento River Cats
from registering the mark RIVERCATS & Design (shown below) for various clothing items.
Rivercat Foods, Inc. v. Sacramento River Cats Baseball Club, LLC
, Opposition No. 91150539 (May 24, 2005) [not citable].
Opposer relied on its registration and use of the mark RIVERCAT for seafood and deli meats, pointing to Applicant's admissions that "fast foods such as hot dogs and other sandwiches are served at Applicant's baseball stadium events," and that "the dominant portion of both marks sounds the same when spoken."
The Board found the marks to be, rather than quite similar, merely "more similar than dissimilar." It made the curious statement that, as applied to Applicant's goods, the term "rivercat" is "likely to be perceived as the name of applicant's baseball team," while as to Opposer's food products the connotation is "not clear, but we cannot conclude on this record that it has anything to do with baseball." [The
TTABlog
wonders why the word "rivercat" wouldn't have the same connotation for all the goods involved? There is nothing in Applicant's identification of goods that limits its clothing items to sales in connection with a baseball team. Nor is there anything inherent in the term "rivercat" that suggests baseball.]
In any case, the differences in the involved goods proved to be dispositive. The Board assumed that Opposer's food products might be offered for sale at Applicant's baseball games, and thus that the trade channels for Opposer's food items and Applicant's goods are "potentially overlapping." However, the record was devoid of evidence that attendees at baseball games "are likely to assume that a source, sponsorship or other connection exists between the clothing items that applicant sells at its baseball stadium and opposer's food products." [The
TTABlog
asks why the Board limited its consideration to clothing sold at baseball games? There is no such "baseball" limitation in either Applicant's identification of goods or in Opposer's registration. Shouldn't the Board consider all normal channels of trade for clothing and food items, and evaluate relatedness in that context?]
"There is no evidence in the record from which we might infer or conclude that baseball teams typically use, or license or otherwise allow others to use, their team names as trademarks on food products, or that the relevant purchasers are aware of such practice if it exists."
The Board concluded that despite the similarity of the marks and the overlap in channels of trade and classes of purchasers, "the goods themselves are simply too dissimilar and unrelated to support a finding of likelihood of confusion."
TTABlog
trivia question:
The Sacramento River Cats are a Triple-A affiliate of the Oakland A's. Can you name two former Oakland A's pitchers with "cat" nicknames? Hint: both had the first name "James."
TTABlog P.S.:
My Boston buddy, Doug Wolf, has come up with a third A's pitcher with a "cat" nickname. First name isn't James, however, but Steve.
TTABlog comment:
Apparently Opposer was unaware of this product: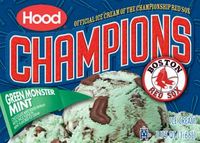 Text ©John L. Welch 2005. All Rights Reserved.