Dissimilarity Of Goods Dispositive: TTAB Grants Summary Judgment In "SURE-LOK" 2(d) Opposition
Occasionally a single
du Pont
factor is dispositive in the Board's Section 2(d) likelihood-of-confusion analysis. That was indeed the case in
Hancor, Inc. v. Mollewood Export, Inc.
, Opposition No. 91156211 (March 31, 2005) [not citable].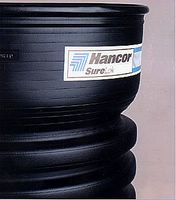 Mollewood Export, Inc.
of Wixom, Michigan, sought to register the mark SURE-LOK for "collapsible containers made from processed wood materials utilizing a metal clip for use in the automobile industry." Opposer
Hancor, Inc.
of Findlay, Ohio, relied on its registration and use of the identical mark SURE-LOK for "plastic corrugated pipe and tubing with smooth interior using an integral bell coupler for drainage systems, storm sewers, and sanitary sewers."
Mollewood filed a motion for summary judgment, asserting that the parties' goods are "so vastly different that as a matter of law, on this basis alone, there cannot be a likelihood of confusion." Hancor contended that the goods are similar "in that they utilize a unique releasable structure to join two pieces of the product." As to channels of trade, Hancor asserted that one of its competitors could use Mollewood's shipping containers to ship plastic pipe and accessories." In addition, Hancor urged that its mark is famous as a result of $100M in sales in the past year and $1M in advertising expenditures on average.
Hancor watched its opposition go right down the drain, as the Board ruled that the parties goods are not related: Mollewood's are used with sewers, Hancor's in the automotive parts industry. As to the argument that both products use a "unique locking feature," the Board noted that "[t]his could be said for a glass jar and a screen door."
glass door, screen ajar
The Board was not impressed with Hancor's argument that the channels of trade could overlap: "[we] cannot imagine ... that the building and construction markets overlap with packing and shipping of automotive parts industry." [
sic
]
Even viewing all other
du Pont
factors in Hancor's favor, including fame -- and the Board pointed out in a footnote that the mark SURE-LOK is suggestive of Hancor's goods -- "the dissimilarity of the goods is so vast as to preclude a likelihood of confusion."
TTABlog
comment: The Board does not often grant summary judgment in Section 2(d) cases, given the many factual issues that may arise under the
du Pont
factors. Here, however, the motion for summary judgment must have looked to Mollewood like a sure lock.
TTABlog
note: I could not locate a photo of the Mollewood product, nor a photo of a glass jar and a screen door to illustrate the Board's analogy. Therefore, I decided to include the "door ajar" photo, in a feeble attempt at humor.
Text ©John L. Welch 2005. All Rights Reserved.